CTI Cryo-Torr 8 High Vacuum Pump, 10 in. Conflat Cryopump, 1500 l/s Air, 4000 l/s Water Vapor, Rebuilt
The CTI-Crogenics Cryo-Torr pump 8, are one of the two major components that make up the Cryo-Torr Pumping System. The second component is the Compressor (also sold on this website). This is the Cryo-Torr CTI 8 Pump, providing fast, clean pumping of all gases in the 10-3 to 10-9 Torr range. Standard applications include, Semiconductor, Aerospace & Vacuum coating as well as R&D. The cryopump operates on the principle that gases can be condensed and held at extremely low vapor pressures, achieving high speeds and throughputs. This Cryo-Torr 8 Pump is a highly-reliable and rugged unit that requires a minimum of servicing. Since the cryopump exposes no moving parts, operating fluids, or backing pumps to the vacuum, the possibility of system or process contamination from the cryopump itself is eliminated. This is the Cryo-Torr 8 Pump ONLY, compressors, cables, roughing pump and other accessories are available on this website. Descripition, Installation, Regeneration, and Maintenance Procedures are totally covered in the Cryo Torr Pump Installation, Operation and Maintenace Instructions .pdf for download below.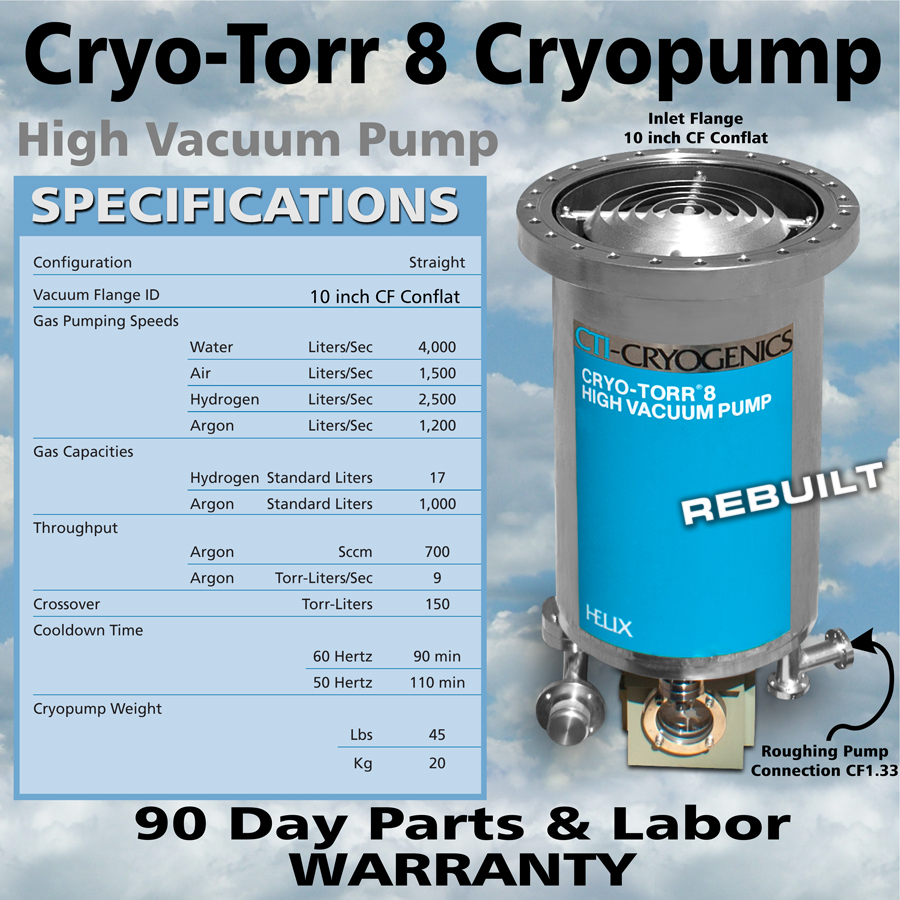 We also Repair and Rebuild Cryogenic Vacuum Pumps and Systems
For Services: CALL (505) 872-0037
Every CTI-Cryogenics pump we sell goes through a rigorous rebuild process at our Albuquerque, New Mexico (NM) location. As each pump is rebuilt they are fully dismantled and all parts are decontaminated and inspected. Damaged or worn parts are replaced. All bearings, o-rings, seals, and gaskets are replaced. Rebuilt pumps are attached to our computer controlled pressure diagnostics system where their performance is monitored for 72-hours under varying load. Pumps are leak tested to ensure safety during operation. All sensors are tested and the final rebuilt CTI-Cryogenics is cleaned and painted as required. We offer rebuild subfab services to rebuild you CTI-Cryogenics. Please call our office at (505) 872-0037 for more information about our subfab rebuild service.